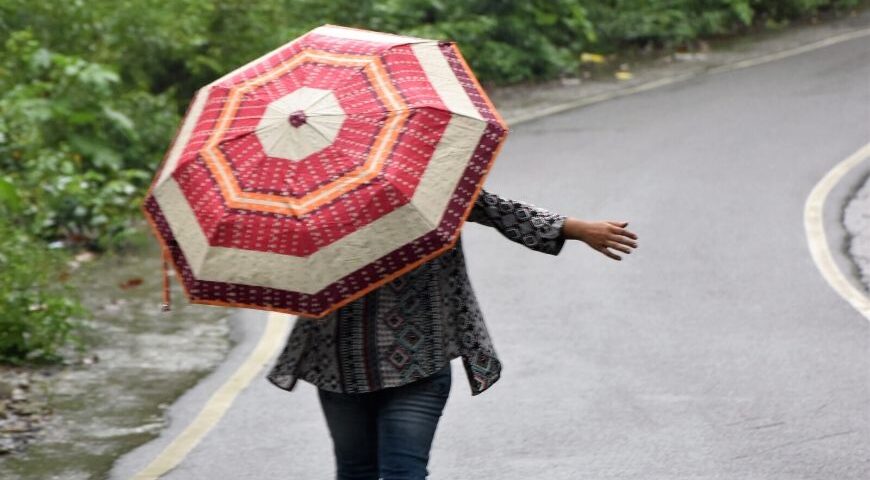 Experience the magic of Rain: Travel !
Happiness is rains. The moment you step out in your rain boots, you know you will enjoy walking through the puddles. While I choose my path, not to stop even if it rains, I brim with happiness coz it makes me feel alive.
I have always loved the rain. Everything about it – from the fragrance of the air before it to the sound of the rain as it smatters against the windows. When I was young and it would begin to rain I would run outside and just stand there. Open my arms and play around the puddles. As soon as the rain stopped, I still remember I used to eagerly wait for the rainbow to show up.
This monsoon season I decided to take a walk. "I wandered lonely as a cloud that floats high over valleys and hills, when all at once I saw a crowd, a bunch of lush green forest ; some wild flowers, beneath the trees, fluttering and dancing in the breeze … Just like I do when it rains."
This got me thinking. Monsoons can be the best time to chill out and take a leisure trip. I found 4 reasons to back my idea 🙂
There are Less Tourists — Less tourists = Less queues = No Maara Maari (Less waiting time) = Better Experience. So the plan is you can go on a trek and it rains – at first it sucks but then you realize all you need to do is rock a poncho and you can play in the puddles and have Maggi and chai over and over with lots of conversations.
Get the Best Deals — Grab the best of the offers during monsoons including the stay, souvenirs or even a tattoo, just about everything is discounted. Since there are fewer tourists, people want need your business and are willing to give deals, negotiate and put in the extra effort to make you happy.
More time to explore — Instead of racing from place to place, activity or activity, the weather may force you to slow down and pause for a little bit. Indulge in talking to the locals and know more about the place through them. Since the locals are less stressed, they would have ample time to host you better.
Just because I am out and travelling, I Smile. 
Just because when it rains, I choose adventure.
You will have a story to tell — Ever danced with the little kids in the rain and re-lived the same innocence? Ever seen someone driving a motorbike with one hand and an umbrella in the other?  Ever made a paper boat just to sail on the streams formed after the rain?  Do it now. Even though you have to alter your plans, but it definitely gives you interesting stories to share.
We must take out some time to see the trees bathe in the rains and enjoy the beauty of nature in all its glory. After all its these small pleasures in life that we live for.
Note: While you select a destination make sure you have checked the road conditions and there are no warnings of a disaster. Safety comes first.
Do tell me know in the comments why would you like to travel in monsoons.  I went to Dehradun for a weekend and found my home in these forests. Tell me where do I find you on a rainy day.
Inspired? Start planning your summer getaway with Roots now! Contact ROOTS for the best way of experiencing it.
Check our adventures at www.facebook.com/travelwithroots and www.instagram.com/rootsvida
Keep traveling and sharing your roots moments with us. Stay #Rooted