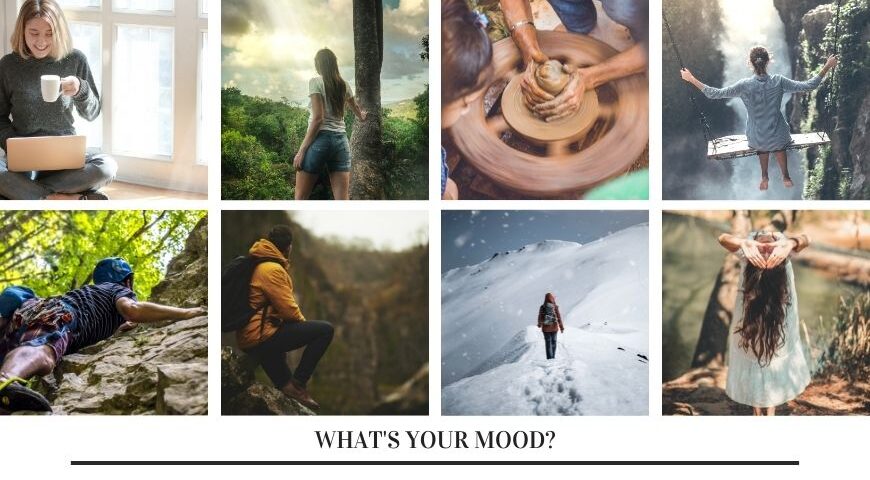 Match your Mood to your Destination!
Inspired by Rumi's famous quote "Not the ones speaking the same language, but the ones sharing the same feeling understand each other", mood breaks were conceptualized with the thought that every destination has a spirit while each spirit has a destination that can please them.
A few years ago, someone asked me, if you are not feeling happy today, what would you like to change? I said, "If I could change one thing, it would be the lifestyle of being comfortable in our shell. I want to balance my work by adding travel – for it makes me wiser and free both at the same time."
I made 'Travel my lifestyle' and it was indeed a big one. It is just a healthier way to let off your troubles to the shore or sweat them out on a trek. I found self-care methods like treating yourself with a holiday with some happiness circles to bring in a lot of balance in your lives.
It was in that moment, I conceptualized mood breaks where you are more conscious of pampering yourself than following the herd and ticking off your bucket list. Do what you feel like at the moment. Things are either going well or they're not. There are going to be moments when you're feeling good, and then you're going to feel like, 'I'm not going to do that anymore.' And you just let go. So, when it comes to living out these emotions, it's really just simple.
Take a deep breath and imagine what your perfect weekend would look like. If you feel like you're falling into the trap of living in the past, then be like one of the runners and pretend to go in slow. If you feel you are completing a project this week and you want to celebrate, go out and jump in the ocean and chill by the sea.
Or probably, setting aside emotions, if you are overworked or need a stress buster? Travel. Travel is the antidote to workaholism. If you know what you're getting into and you take care of yourself, you can save your money, yourself, the earth and the happiness that comes from sustainable travel.
The tailor-made trips by Rootsvida, are curated keeping in mind different emotions in the ways that can transform your breaks into something meaningful. When you pick for your next holiday, sit and ask what your higher self needs at that moment –
If you are in a mood to celebrate, choose a trip to a festival
Mood to lose yourself and relax, choose our retreats – yoga or dance retreat
Mood to Do Nothing and go blank – choose a 'Do Nothing Vacation'enjoying the natural beauty, and experiencing local culture" (what more could one want?).
Need a longer break from work, rejuvenate yourself with a road expedition to exotic locations
Mood to let go of your troubles, take a beach therapy
Mood to sweat out or push your limits, trek up the mountains
Take your time. Be conscious and every second of it will be worth it.
Inspired? Start planning your trips with Roots now!
Contact ROOTS for the best way of experiencing it. Check our adventures at www.facebook.com/travelwithroots and www.instagram.com/rootsvida
Keep travelling and sharing your roots moments with us. Stay #Rooted