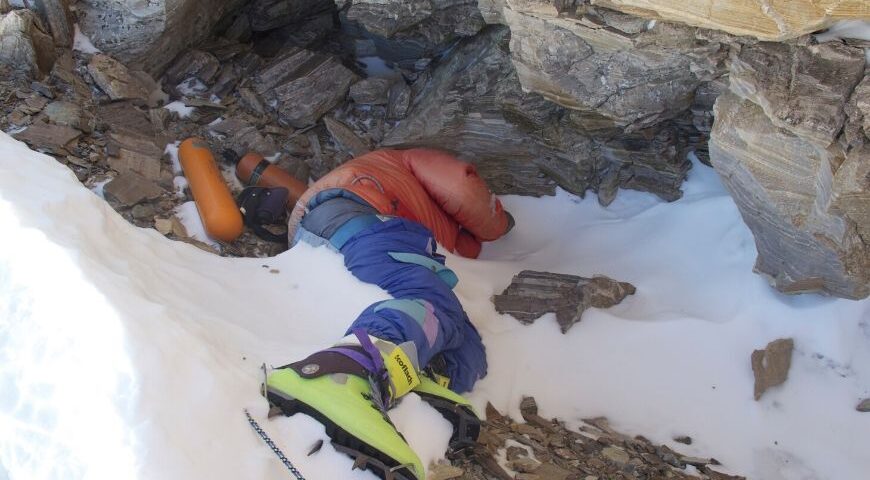 'Green Boots' – The Frozen Mountaineer
The story of the most famous Indian dead body at Mt Everest Summit for 20 years
Limestone alcove cave at 8,500 m (27,900 ft)

On 10 May 1996
It is clear that the stake [the mountaineer] risk to lose is a great one with him: it is a matter of life and death…. To win the game he has first to reach the mountain's summit – but, further, he has to descend in safety. The more difficult the way and the more numerous the dangers, the greater is his victory."
– George Mallory, 1924
Looks like a body taking a nap in the snow, the climber lies on his side under the protective shadow of an overhanging rock. He has pulled his red fleece up around his face and wrapped his arms firmly around his torso to ward off the biting wind and cold. His legs stretch into the path, forcing passersby to gingerly step over his neon green climbing boots.
He was Tsewang Paljor, but most of them encounter him only as Green Boots.
For nearly 20 years, his body, located not far from Mount Everest's summit, has served as a grim trail marker for those seeking to conquer the world's highest mountain from its north face. Many have lost their lives on Everest, and like Paljor, the vast majority of them remain on the mountain. But Paljor's body, thanks to its prominence, came to be one of the most well-known.
Flashback
Along with climbing partners, Tsewang Smanla and Dorje Morup, all three bodies perished in the 1996 storm immortalised in Jon Krakauer's best-selling book Into Thin Air and, more recently, the big-budget thriller Everest.
Tsewang Paljor was a member of the Indo-Tibetan Border Police, and was just 28 years old when he lost his life. He was born on April 10, 1968 at Ladakh. He grew up in Sakti – "the golden throne" – an idyllic valley village of whitewashed houses, barley fields and poplar trees. Paljor is remembered as a shy boy with big heart and natural kindness. A foodie, who loved roasted chicken and a cheerful guy who use to sing for himself and his fellow men. He always volunteered to take on difficult jobs; he was a tough guy who always had a passion of conquering the giant rocks.
After completing 10th grade, he quit school and tried for the Indo-Tibetan Border Police (ITBP), whose sprawling campus was located in nearby Leh, Ladakh's dusty capital.  He had proved his ability to climb great mountains many times. So when he was selected to join an elite group of climbers who would undertake a risky but grandiose mission – he chose not to reveal his true destination to his family. He lied, that he was going to climb a different mountain, as they learned the truth from his friends.
Thinley, who is a monk, met Paljor in Delhi few days before he was due to leave; he gave his brother a blessing before bidding him goodbye. "He'd just passed his health exam, and he was so excited to go to Tibet," Thinley says. "He wasn't nervous at all. He was really happy about all of this." Thinley was the last family member to see Paljor alive.
Paljor was young, strong and experienced, but Everest presents multitudes of ways to take life of even the most well prepared climber – falls, avalanches, exposure and more. Sudden death – from heart attacks, strokes, irregular heartbeat, asthma or exacerbation of other pre-existing conditions – is quite common, and lack of oxygen can trigger acute pulmonary or cerebral oedema. Life-threatening conditions can occur when blood vessels starts leaking fluid into the lungs or brain.
On 10 May 1996, at 1500 hrs that afternoon, Paljor's team informed Advanced Base Camp, that they are heading to summit. The base camp tried to inform them about upcoming deceptive and bad weather and to turn back. However the team decided to go ahead as summit was less than an hour away and still all three men felt fit. They had lost the radio connection at the same time. At 1735 hrs, the base camp team heard back from them. A flood of relief and excitement washed over them as Paljor and Morup were standing on the summit. It was a moment of pride for everyone but the team at base camp was in grief as they received the news about tragic weather approaching.
The men unintentionally stopped at 150m (500ft) while descending down resisting the increasingly bad weather and the mental haze of high altitude. Yet the jubilant feeling at camp was to be short-lived. Shortly after Paljor's team called, the weather, which had been steadily deteriorating, broke. The infamous 1996 blizzard had arrived, cloaking the mountain in a fury of snow and wind. Trying to keep his fears at bay, team at base camp believed that the men would be fine, that they had dealt with worst weather in the past. If they hustled, they could even make it back to Camp VI by midnight. However this did not happen.
A controversy – Ignorance to Paljor's body
Everybody, especially those climbing on the north side, either knows about Green Boots, has read about Green Boots or has heard someone else talking about Green Boots. About 80% of people take a rest at the shelter where Green Boots is, and it's hard to miss the person lying there.
With Paljor's death, came a wave of controversy that debated on whether he and his two teammates died because of other climbers in their own lust to reach the peak or callously ignored their signs of distress.
Since then it's been 20 years that Pajlor is watching over the world sitting at the top of the world. This incident also created a controversy on Mountaineering ethics.  It is believed that a Japanese commercial climbing team passed tsewang when he was lying at limestone cave but they did not bother to help him or even check him in the lust of conquering Everest.
This incident was criticized by many veteran mountaineers pronouncing the fact that mountains can be climbed many a times but losing a life that can never come back is a tragic moment. There is a tradition of fixing the nation's flag on the every deceased at Everest. He is our man and he deserves it. We would request our Indian climbers to do so. We pledge to do so the day we go to Everest.
Originally Published Here http://www.bbc.com/future/story/20151008-the-tragic-story-of-mt-everests-most-famous-dead-body
Roots is looking for adventure and respect the people who embark on a journey to explore their passion. Join us to know more such stories, you never know what encourages you to be a hero in your own eyes.