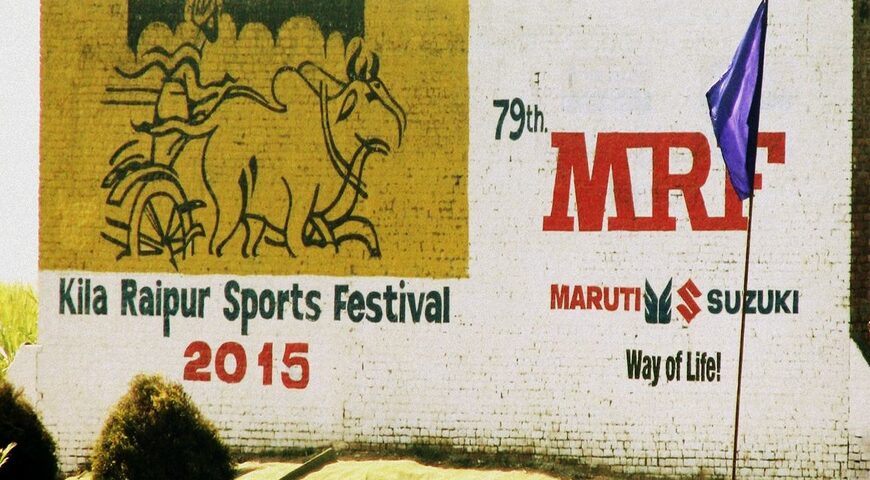 Punjab – High on Spirits!
"Never turn down an adventure without a good reason."
Having said that, we believe the Rural Olympics in Kila Raipur is worth a watch at least once in a lifetime. Roots visited the 'Pinds of Punjab' – Kila Raipur, 25kms away from Ludhiana to witness this boisterous event in January 2015. Travelling through 'sarson ke khet' to the interiors of the village, we had a great time shooting rural landscapes en route to the stadium. With a gathering of 2000+ sports enthusiasts as they battle out with traditional sporting events, it's a sight worth watching.  Celebrating the spirit of rural sports for over 81 years now, this event, due to its rustic nature pulls a lot of crowd from the cities.
A sports festival with the announcer's non-stop commentary in Punjabi is one of the main highlight to watch out for, but that's not all.  One needs to be on the field, to feel the adrenaline rush in quest for a real adventure to run down your spine. Where else would you see activities like people lifting bicycles or ladders with their teeth, camel and horse dance, pulling cars with their hair, teeth or ears and Kabbadi. However, no show of Bullock cart race was a big disappointment this year.
There was adventure ruling the day – from escaping the horses to run over us and still determined to get the best shot – was enough to mark as one of the best moments.
From Ganne ka juice to Pakore and Tikki, the day kept us busy with various activities, photography and food. The day ended with a visit to Gurudwara Flahi Sahib – a hidden gem, blessed with one of the best locations and the sanctity that it preserves.
The next day, we only had a couple of hours to explore the city before we were to head back to Delhi. The highlight was spotting a Tiger at a Zoo near Maharaja Ranjit Singh War Museum who posed elegantly throughout the safari giving some of the best shots to the photographers.
We also visited Serai Lashkari Khan, popularly known as Rang de Basanti Fort can be rightly picturised as a huge fort reminiscent of Indian culture and history, right in the middle of lush green fields with a Gurdwara as the backdrop. Unfortunately, photography is not allowed in the premises but our edgy cameras did give us some picturesque shots for our memories thanks to the ubiquitous camera phones.
The fun doesn't end at the end of the day – Kaind ke pakore, dinner at Baba Chicken and lunch at Jimmy Dhaba, after all the action was a culinary treat for foodies like us over a two day trip.
However, adventures do come to us out of the blue, often unbidden and sometimes even unconsciously. And when we say "yes" to travel into the exotic, harsh and exciting, we are usually left feeling more alive than before. Special Credits: Mr Harshraj Singh, who helped us plan the trip. There are very few people who go out of the way to host their guests and with your gesture, we had a great time at Kila Raipur.