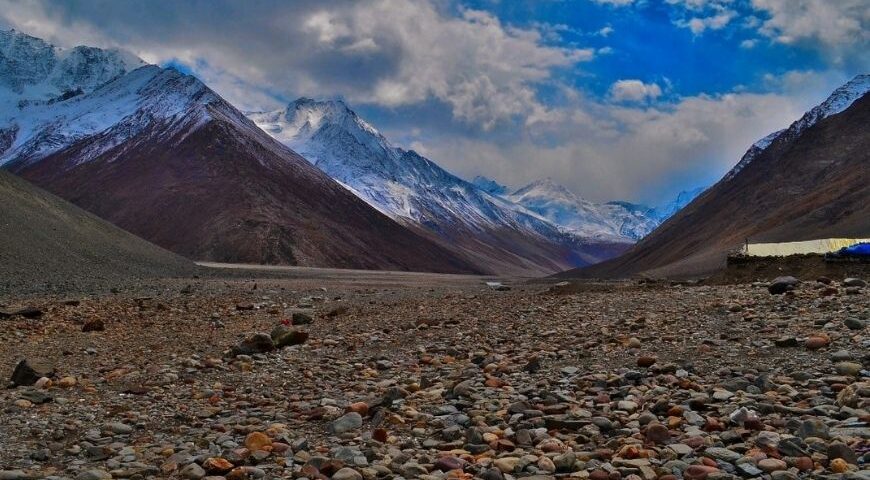 Go off-grid in Spiti
Drive the winding roads of Spiti Valley
After years of being the hidden gem, lesser-visited Spiti is beginning to hit its stride from a tourism perspective. Looking to showcase the heart of the destination, Rootsvida.com is offers a group adventure that aims to "explore the soul of Spiti." Starting in Manali heading north the ONE STEP CLOSER trip promises a bounty of snow-capped peaks, rolling grasslands, plunging valleys, and dramatic rivers—not to mention abundant opportunities to meet and spend time with locals.
Led by super enthusiastic travelers, we will wild camp and stay in homestays with families in remote villages—completely cut off from the outside world—in which traditional life remains intact, and generous hospitality and delicious cuisine awaits. And while you find your feet on these exciting and unseen trails, you'll be helping Spiti find its feet in the brave new world of tourism.
It's not a region that gets the most positive press, but it's one that offers so much, taking in some of the world's oldest inhabited cities and a landscape of desert gorges, rocky mountains, and spiritual vibes. It's also home to some of the warmest people on earth; in fact, the idea behind this itinerary was to give a "human face" to the far-fetched valleys of Northern India, as well as develop new trails and encourage sustainable community tourism.
If you want to escape the Instagram-obsessed herds in Ladakh consider Spiti as an alternative. This place is unmatchable for the solace it offers you. So, book your tickets to one of the most unexplored destinations, surrender yourself to a pristine world. You will be served with the best hosts, delicious cuisine and inescapable terrains in Himachal Pradesh for making your journey worthwhile.
Inspired? Start planning your summer getaway with Roots now! Contact ROOTS for the best way of experiencing it.
Check our adventures at www.facebook.com/travelwithroots and www.instagram.com/rootsvida
Keep traveling and sharing your roots moments with us. Stay #Rooted