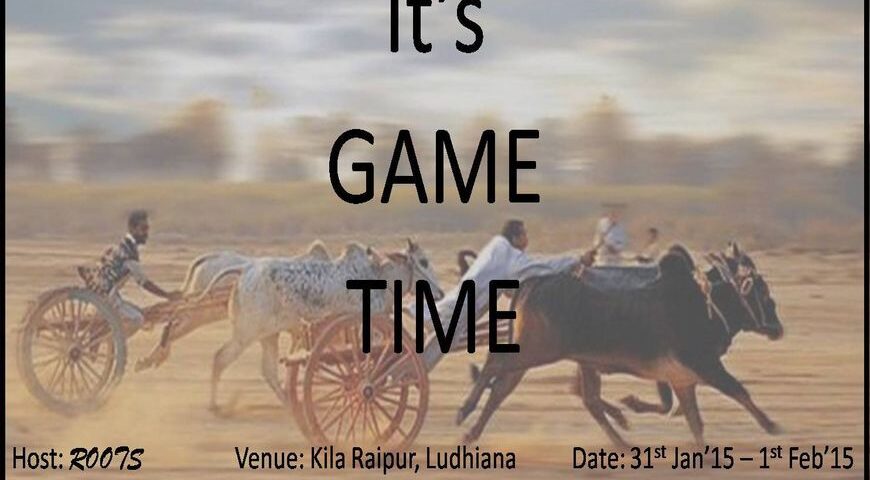 Prologue to Kila Raipur- 31st Jan'2015
All you wanted to know about our next event!
One of the quirkiest yet exotic experiences tourists could enjoy while on a trip to India is by witnessing the famous Kila Raipur Sports Festival, popularly referred to as the India's Rural Olympics.
It is the time when the farming chores are put on the back burner and people gather to perform some of the craziest, insane and bizarre feat at Kila Raipur Village 15 kilometers from Ludhiana in Punjab.
When ?
Kila Raipur Sports Festival is organized every year in the month of February. The event for 2015 is scheduled from 30th of January to 1st of February
Who started this form of Rural Olympics ?
The Rural Olympics were started in the year 1933 by philanthropist Inder Singh Grewal. To match their physical strength and endurance, he came up with an idea to group together farmers from nearby Kila Raipur areas every year.
Where is this Rural Olympic held ?
At a distance of 15 km from the district of Ludhiana in the Indian state of Punjab, Kila Raipur Rural Olympics are held every year.
What kind of sports can be seen during the 3-day event at Kila Raipur?
The Indian Rural Olympics are basically designed to test one's skill, strength, will-power and endurance! It's like you got to see to believe it…. the amazing sports that happen here are organized which involves animals including mules, dogs, camels, Bullocks, etc. All the professional sports activities in which sportsmen participate are a spectacle to watch.
Various other entertaining sporting events include tug-of-war, camel race, horse dance, tractor race, and dog race. The most captivating feature still is some of the most wacky activities that takes place here including using teeth to lift bicycles or bricks, dragging cars or tractors using teeth or ears, lying under a moving tractor, riding a bicycle with burnt wheels and various other ultra-classy stunts.
What all happens here apart from sports activities?
Various cultural performances are organized each day by the locals. People can be seen performing stunts on moving vehicles or playing with fire at every corner as the event goes on.
At night, cultural performances are well organised. The event goes on till at least till midnight on all the three days as the crowds get together to enjoy the festivity.
When is Kila Raipur Sports Festival 2015 scheduled for?
The 3-day event is organized from 30th January to 1st February. Hurry up and book your seats with ROOTS to Ludhiana, Punjab to be a part of the thrill and to click some bizarre yet awesome photos of this annual sporting event!
We, ROOTS has taken a bold attempt to take all of you to witness this event which we believe can be a treat to your eyes, kick to your adrenaline and a spirit of sportsmanship that can be worth remembering.
Special mention: All images used in this post is courtesy Google.
Contributed by Karan Saxena
Planning a trip or an adventure across India? Contact ROOTS for the best way of experiencing it.