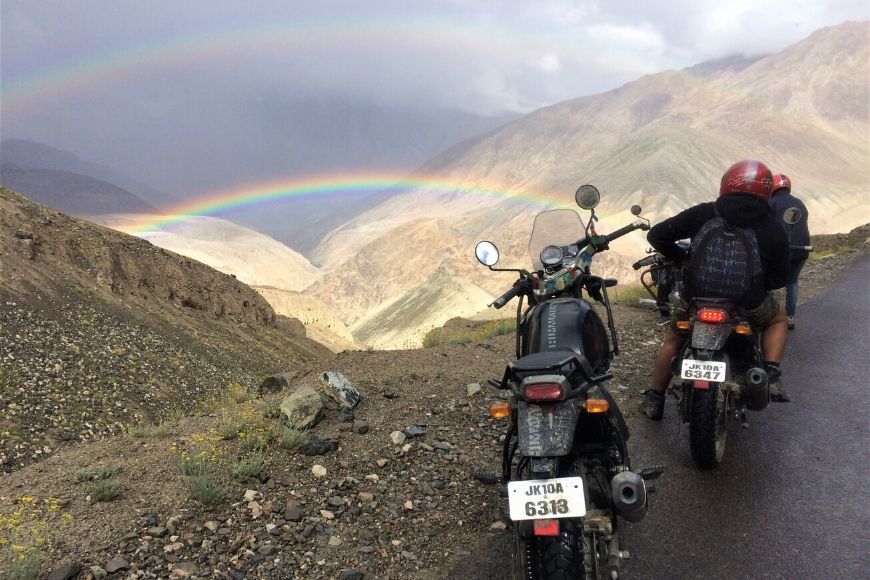 Stories from the Road – The Land of Rainbows
A rainbow is beautiful anywhere in the world, especially so in Leh, Ladakh, a beautiful but harsh high mountain desert landscape. Leh had pleasantly surprised us pretty much everyday with unexpected scenery, snow fall  and all things beautiful. That's why the rare sighting of a rainbow over Leh which rarely sees any rainfall thrills Ladakhis and tourists alike. It seemed as if the whole town stopped to look up at the sky for at least 10 minutes.
One of the days, we saw a rainbow circle around the sun! Definitely a first for me. Nature can be such a show off sometimes. Then, as we drove a little ahead, we saw the perfect reflection of the hills in the lake water. It was so perfectly congruous; almost looked like someone had planned it like that.
Another one was spotted at the Thiksey monastery that is located on a hilltop and we could see a panorama of beautiful landscapes all around. The sky was full of compelling colours of blue and the light was a beautiful golden.
Another moment of rainbow was experienced when we were in Nubra Valley. Suddenly the wind picks up blowing the sand – blinding people. Clumps of thorny shrubs are the only shelter. The sand storm is fierce but it rages for minutes before sheets of rain come down. This too is brief and, at the end of it, a bright rainbow forms leaving everyone on the safari spellbound.
There is something magical about seeing the pretty colors in the sky or maybe it is just the rains that have just stopped and the sunshine trying to sneak in through the dark clouds. Whatever it may be, it presents such a pretty picture it is hard for anyone to stay calm in such moments.
P.S. Keep reading our next series of Stories from The Road. And you can read older one here. 
Check our adventures at www.facebook.com/travelwithroots
Planning a trip or an adventure across India? Contact ROOTS for the best way of experiencing it.
So keep traveling and sharing your roots moments with us. Stay #Rooted