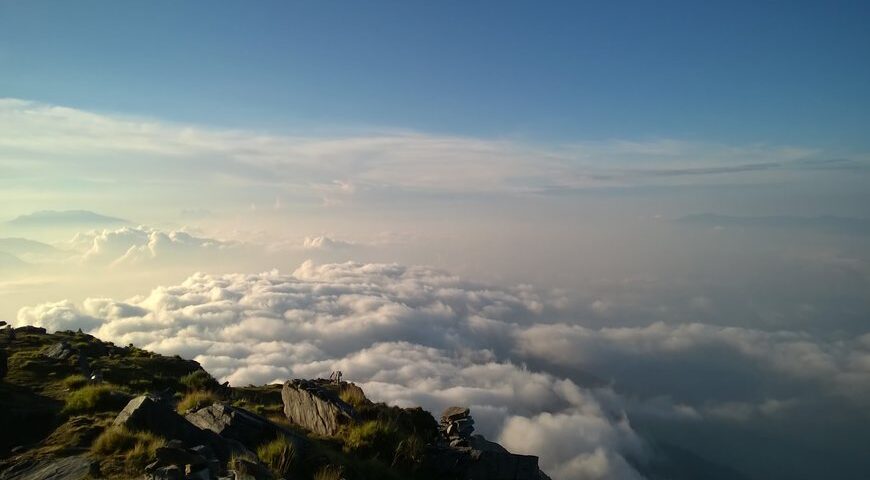 Wingardium Leviosa…………. and I was walking on clouds
Took  up a journey on foot to Tungnath, and here I am at the top – awarded with one of the best views ever!
Bewildered I waited, on top of that arduous mountain in dark braving the cold winds, for the first light. Trying to figure out that why instead of sleeping of my opulent bed I am lounging on stones and rocks. After an unremitting journey of sixteen hours, landscape changing from high rise concrete buildings to plains to roads on clouds, to meandering river in valley below to confluences of rivers, Mandakini surrendering to Alaknanda, Alaknanda and Bhagirathi acquiesce to be called Ganga, reached Sari, a hamlet in midst of flowery meadows walled by hills.
Journey on wheels was over it was time to jaunt on foot, time for uphill climb to reach Deoria Taal. Hills have idiosyncratic way; while you stop and gasp for breath they unveil an awe-inspiring exhibit that you forget to breathe and just stand there hypnotized by the grandeur you witness. Clambering on the sinuous path, camouflaged with a cover of moss concealed under oak and rhododendron forest, I reached lake.
Nestled among hills there was this emerald green lake its placid water, it was set like a cosmic jewelry enclosed in a natural amphitheater of mountains.
Vista of snowcapped peaks and bouquet in air nursed aching limbs and in the blink of an eye I found myself on top of watch tower on opposite end of lake adoring the unmitigated beauty of the panoramic surroundings. Hours just flew by as I sat there mesmerized looking East as departing sun sets a blaze snow on massifs, denying to be curtailed by clouds, of Chaukhambha peak.
Dark of the night approached lackadaisically, I strolled to my tent pitched next to the lake; trail lit by stars above and fireflies all around. Scraping rubber mattresses spread in tent, I stretched legs on the grass under a star studded sky.
Crickets chirped, leaves rustled, frogs croaked fishes splashed, I was reading a story of a nymph, zephyr sang a lullaby and…………..… indistinct warbles brought be back, surroundings were dimly lit by morning twilight.
I had a visitor, or was it otherwise; in pastel light I could outline a deer was there guzzling water at a distance of few feet heedless of my presence. It quenched it thirst and the doe-eyed creature stared at the intruder and vanished in woods. The first rays of the sun had struck the massive pillars of Chaukhambha, snow of peak rippled in the water of lake.
Grey clouds accosted me as I reached Chopta. Brass bells tied to a gate mark the beginning of trail to Tungnath. Roving across stretches of Rhododendron forests, flawless grasslands, supplemented by company of Himalayan Tahr, monal and species of passerine birds and Chaukhambha peak on left, I found harborage in Shiva's arms. The emerald sheen of surroundings baffled me. A myriad of tiny flowers had carpeted the entire region. At a distance horses were peacefully grazing, while some were running wild, reminiscent of a beautiful expression of freedom. Queasy clouds tired of being tossed around by mountains and wind, settled down with thunder and lightning and poured and poured. I took shelter in a guest house overlooking the trail and valley below. It was dark when I woke up and stepped out of room on a carpet of clouds spread below on valley.
On precipitous path I was walking alone, in dark, but I could feel life pulsate around me. Tramping on rocks through labyrinthine trail, I was standing high above clouds.
As I waited, the dark of night nonchalantly gave way to twilight of the dawn, in reverie I watched sky turn into a vast canvas. Sky blue strengthening slowly, glazed with hues of orange and red. Soaring peaks punctuating the horizon, scintillated like diamond as first ray caressed them. As the earth turned, sun lifts up its head and the peaks were methodically splashed with a golden glow. Entranced I stood there enchanted by the golden magic, as the cirque was gradually illuminated. The golden mist engulfed my futile presence and breathed a new soul in me………Thank you Roots for the Odyssey
Only when you drink from the river of silence shall you indeed sing. And when you have reached the mountain top, then you shall begin to climb. And when the earth shall claim your limbs, then shall you truly dance.
About the Writer: Farid is an avid traveler and with Roots he has found the passion to travel. Like an explorer he takes up a road that is less traveled and dreams to just wander in the hills.
Check our adventures at www.facebook.com/travelwithroots
Planning a trip or an adventure across India? Contact ROOTS to experience travel in the best way.