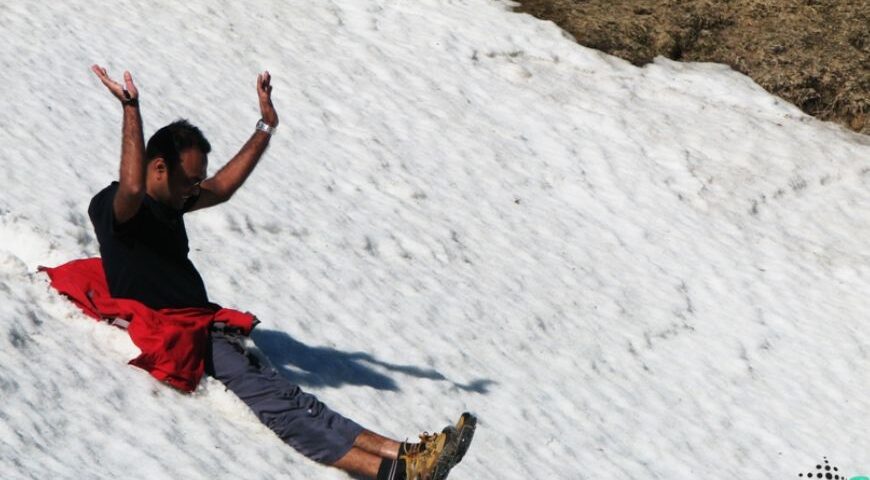 5 Experiences from our Trip to Khajjiar
A traveler's delight – All The Way to One of India's Most Beautiful Landscapes in March just to fall in love with Spring.
Two packed tempo travelers connected with different personalities for just one single passion – TRAVEL. Our Journey started with a bunch of 23 odd people, four of them joining us all the way from Mumbai – Ludhiana and Jalandhar.
The Curvy Roads to our camp Jot pass weren't so friendly throughout the trip …. But the snow made up for it! Yes, with an unexpected time of snowfall, we were surprised to see the thick streak of white line which made us jump from our seats. And we had a chance to flash cameras, polish our photography skills with smiles, laughter and play.
Travel Tip#1 To trigger our memories and communicate how we felt, we need to think and feel as much as look when setting out to make perfect photographs.
Even after 12 hours of journey, we were ready to climb up the Dainkund Peak, however due to safety reasons we just halted for a while, played and drove up to the campsite. Chowari Jot offers spectacular views of the Himalayan vistas across a 180 degree angle and the entire Dhauladhar Ranges, Pir Panjal Ranges and the mighty Zanskar Range is also visible from the spot.  We warmed up around a bonfire at an unknown, unaware dark place over a hilltop after a quick dinner.
The starry sky and the fire both gave some warm glow toting up a pleasing feel to the scene adding depth to the travelers' experience.
Travel Tip#2 All excited and thrilled, we slept in a tent accommodation with 5 layers of clothes and planned an early wake up session at twilight.
The gushing sound of twirling winds at midnight increased the adrenaline rush but our tired bodies slept hard.
Travel Tip#3 Shooting during the golden hour is to go out with your camera when you'd rather be curled up in bed, but it's worth the sacrifice. And so we did, Give it a go and see how it transforms your memories.
The moment when you step on one feet snow bed, it's exhilarating. We started to climb and enjoyed an incredible view at the top of the peak, tired but transformed by the challenge.
Travel Tip#4 The snow sheet didn't stop the adventure within us and we all just slid down one by one leaving behind some of the most awesome moments.
Walking down the hilltop of Khajjiar feels like a fairy tale for camera lovers persuading them to capture the best of the views. This lace bears a topographical resemblance with Switzerland, with its magical beauty it leaves you speechless. One of the most accessible wildernesses in Himachal we reached the Khajjiar Lake, surrounded by saucer-shaped lush green meadow and a floating island.
Travel Tip#5 Khajjiar Lake seems to be a little overrated. We were happy to camp at an unexplored and untouched property at Jot Paas rather than a typically tourist crowded destination.
Camping is great fun. Get out there. The only way to discover the rhythm of life in a place is to experience it. Get lost. Sit and watch life pass by. Look around the bends, over the rises. Get away from the crowd. Admire the beauty.
It's an extraordinary experience and we loved sharing a weekend of travel to Khajjiar with you!
Planning a trip or an adventure across India? Contact ROOTS for the best way of experiencing it.