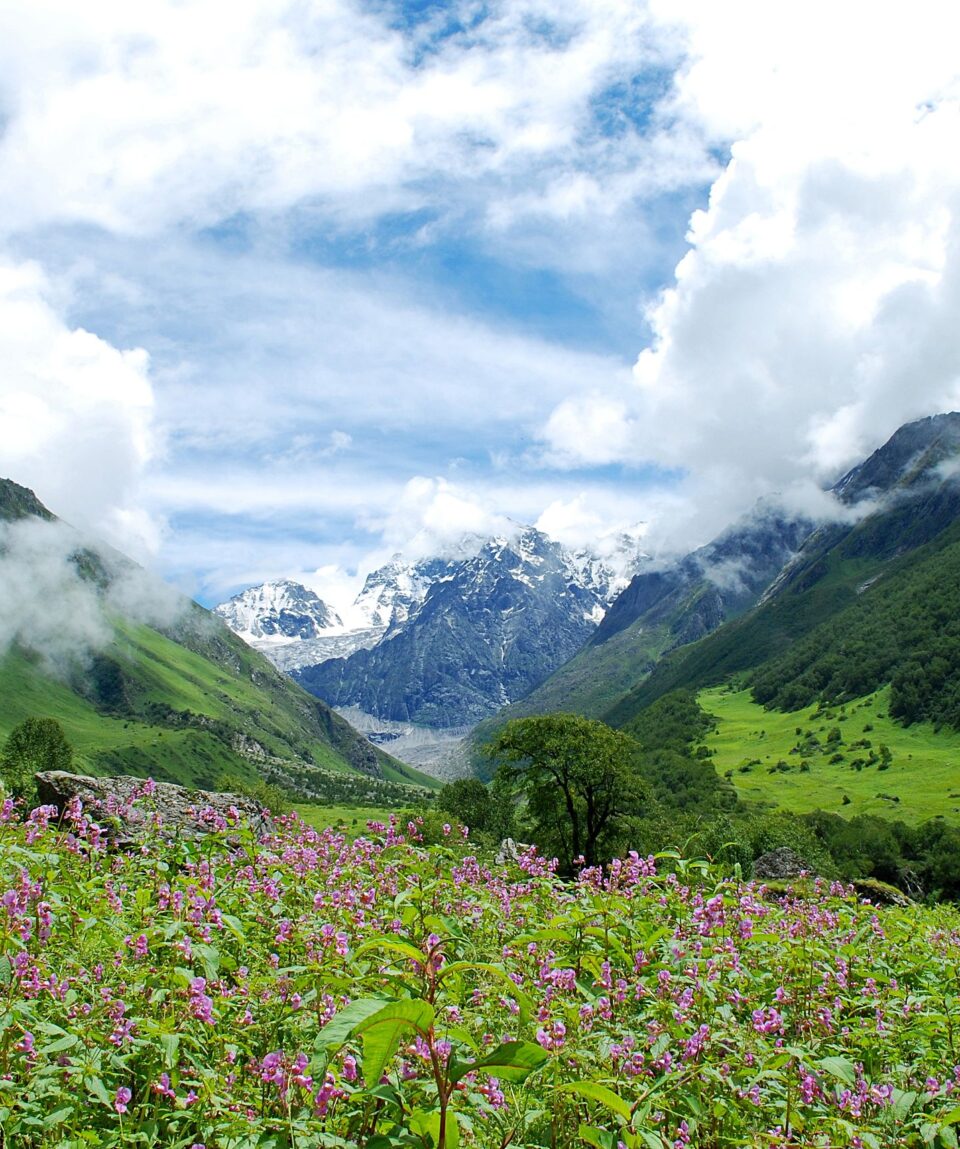 Valley of Flower Trek | Group Trip
from
A must trek during monsoons, considered the most picturesque of all, you would not want to miss the famous valley of flowers trek. Also not for the faint-hearted!
Vacation Style

Holiday Type

Activity Level

Challenging
All about the Valley of Flower Trek | Group Trip.
Be a part of this wonderful vacation full of Adventurous trekking, camping experience and breathtaking views from the heights.
The beautiful valley situated at an altitude of 3300 mts. to 3650 mts. is the paradise of nature lovers. Starting from about 6 kms from Bhuindhar village it covers an area of about 87 square kms. The valley is exceptionally rich of the flowers wealth and has the largest collection of wild flower species. The river Pushpawati flows through the Verdant Valley.
Looking for a similar Trek check Tarsar Marsar Trek.
The tour package inclusions and exclusions at a glance
What is included in this tour?
Items that are included in the cost of tour price.
Accommodation: In a GUEST HOUSE / HOMESTAY / CAMPING on triple sharing basis.
Meals while on trek (Veg & Egg) ,Bed tea, Breakfast, Lunch, and dinner.
Transport from and back to Rishikesh.
Trek equipments like Sleeping bag, mattress, tent, kitchen tent, toilet tent
Trekking Permits
First aid medical kits
Qualified & experienced trek Leader, Guide Support staff and Mules
What is not included in this tour?
Items that are not included in the cost of tour price.
Mules or porter to carry personal luggage.
Hotel Stay in Srinagar.
Food during the transit.
Insurance.
Anything not specifically mentioned under the head.
Any costs arising due to delays, bad weather, landslides, etc.
Day 1

Rishikesh to Joshimath

Rishikesh – Joshimath / Govind Ghat (270 Kms / 8-9 hrs).

The trek to Valley of Flowers (VoF) and Hemkund starts a little beyond Joshimath, at a pilgrim hamlet called Govind Ghat. Leave Rishikesh early in the morning and travel along River Alakananda on the Badrinath highway. The roads are dangerously cut on the mountain's edges and at times, you only see the river flowing in the gorge deep below. Do not carry food with you as there are plenty of eateries on the way. As a trekker, there is no need to hire porters or mules on this trail but if you need one to carry your backpack, Govindghat is the place to hire a porter or mule. BSN network is available in Govindghat, so make all your calls here before you set off on the trek.

Day 2

Govind Ghat – Ghangria

Govind Ghat – Ghangria (Trek 14 kms/3-4 hrs)

There is now a motorable road to Poolna. This reduces the distance trekked today to 9 km from the earlier 13 km. Start with a 4 km cab ride to Poolna. The trail is well-defined. It is usually full of Sikh pilgrims walking up and down. Notice the cleanliness on the trail despite hundreds treading upon it every day. It's a heartening and motivating sight. All thanks to volunteers who sweep the trail every day.

The 9 km trek from Poolna to Ghangaria goes all the way along the river. Stop by any roadside dhaba for a drink or a bite to eat. The trail is alternately sunny and shaded. At around the midpoint of the day's trek, you cross the river and go to the other bank. After this, you no longer trek alongside the river.

The trek takes 5-6 hours and you approach a tabular land. This is when you know you are close to Ghangaria. Ghangaria has a helipad and some space for camping.

Day 3

Ghangria - valley of Flower - Ghangria

Leave Ghangaria early (6.00 am) to give yourself the whole day to spend at Valley of Flowers. The trail splits in less than a kilometre. There is a gate to buy entry tickets to the valley. Walk inside and notice the small flowering plants springing up on either side. A kilometre into the gate, there is a scenic bridge across a stream gushing below.

Tall rocky mountains rise before you.  Notice that the well-laid-out trail has now become a small footway along the side of the valley. The stream flows below you and there are small, hard snow patches by the side. On the trek inside Valley of Flowers, you see very few people around you. This may come across as a big and welcome contrast to the previous day's trek, where there were hundreds. The valley is a botanist's dreamland! One can find flowers, leaves, and buds of various shapes, sizes, and colours, all growing together. Notice various types of bees and insects hovering on these strange flowers.

Prominent flowers that you will see in July-August include Meadow Geranium, Snake Foil, Hooked Stick Seed, Himalayan Rose, Blue Poppy, River Anemone, White Leaf Hog Foot and Dog Flower. Carry packed lunch from Ghangaria on the Valley of Flowers trek day.

Plan your return along the same path by early afternoon. The afternoon sun falling on the valley from a different direction gives a whole new perspective to the same place you saw in the morning.

Day 4

Ghangria – Hemkund Sahib – Ghangria

Ghangria – Hemkund Sahib – Ghangria ( 5 Kms trek)

Start your day early. The weather can be impulsive in the afternoon and sudden cloud cover and rain can get you stranded if you do not get down on time.

Walk around to the other side of Hemkund Lake. It exudes an aura of peace and serenity. It's crystal clear, undisturbed and reflects the mountains surrounding it. The lake and the Gurudwara in this setting are a sight to watch. Around Hemkund, the Himalayan flower, Brahma Kamal grows abundantly. This flower grows only at heights of 10,000 ft to 15,000 ft. Leave Hemkund by early afternoon. The walk down can be strenuous on the knees and toes.  It takes 4- 5 hours to walk down the 6 km.

Day 5

Rest day

Enjoy the beauty of this place and relax for the day.

Day 6

Ghangria – Govind Ghat – Badrinath Ji

The trail back to Poolna is on the same path that you took on Day 1. Drive from Poolna to Govind Ghat. Start after breakfast and reach Govind Ghat by 2.00 pm. We visit Badrinath ji for the darshan and stay overnight.

Day 7

Badrinath Ji - Mana Village Sightseeing - Rishikesh

Badrinath Ji – Mana Village Sightseeing – Rishikesh (300 kms)

Today, we visit to the last village called Mana. And return to our base in Rishikesh.
Your Stay
Enjoy your amazing stay in the tents and feel the vibes of camping on the heights of uttrakhand . You will be provides all the suitable perks of camping such as three times meals, Trek equipments like Sleeping bag,
mattress, tent, kitchen tent, toilet tent etc.
Note: Carry additional things by yourself like hand sanitizers, wet wipes, tissues, etc.