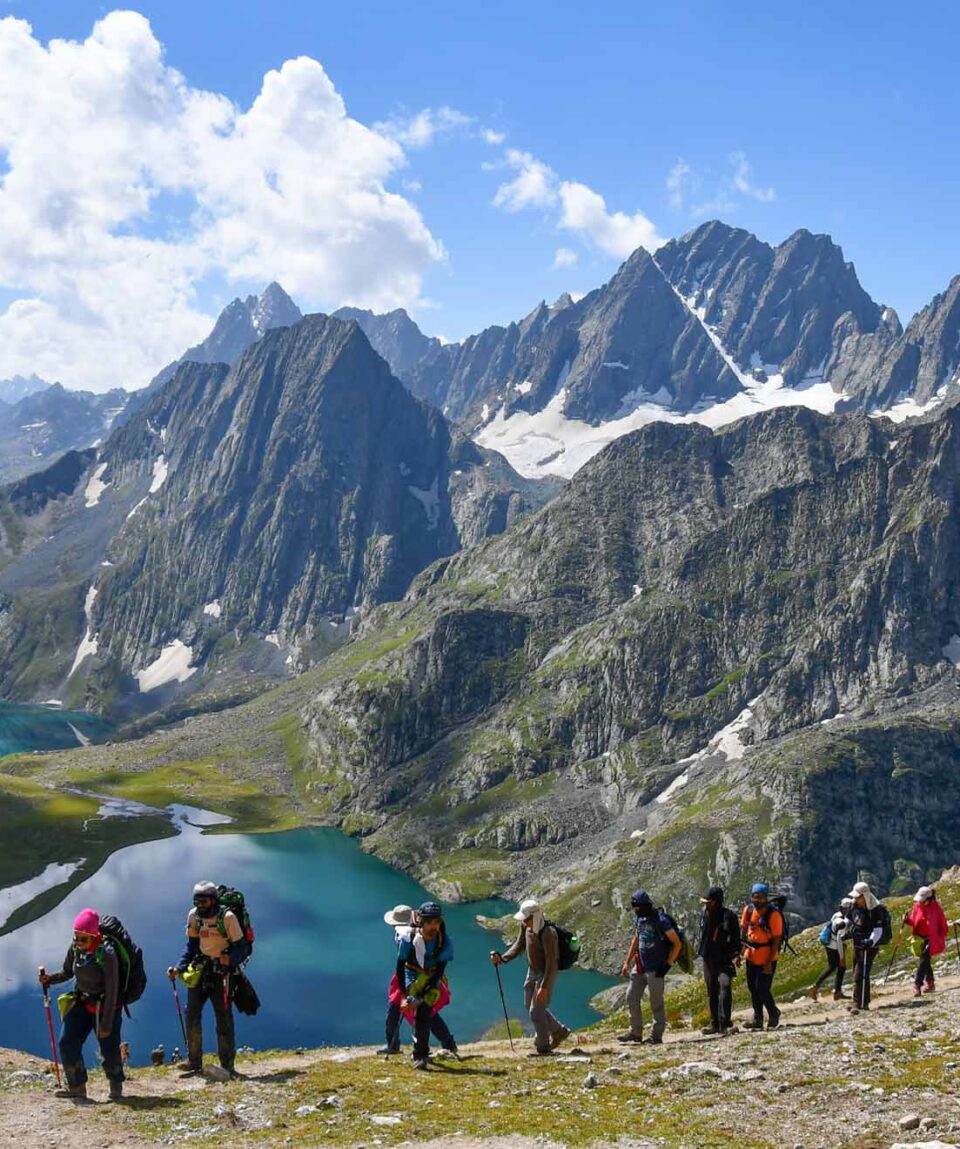 Great Lakes Trek – Kashmir | Group Trip
from
What comes to your mind , when you think Kashmir ? This trek will take you exactly through places like that. Grab this amazing chance to witness the beautiful lakes of Kashmir.
Vacation Style

Holiday Type

Activity Level

Challenging
All about the Great Lakes Trek – Kashmir | Group Trip.
Be a part of this wonderful vacation full of Adventurous trekking, camping experience and breathtaking views from the heights. While wandering on the pine forest trails witness yourself on the land surrounded with beautiful snow clad mountains heading towards the beautiful lakes.
Here is what to expect out of the Kashmir great lakes trek :
Hands down, the Most Beautiful 8 day trek in Kashmir.
Astounding High altitude lakes that will leave you in awe
Passes that will take your breath away as you stand on top of it.
The wide Meadows that stretches as far as your eyes can gaze
Interact with Kashmiri kids having cute red cheeks and other locals through the villages
A lot of game nights, camp fires and a celebration at Srinagar.
Looking for a similar Trek check Tarsar Marsar Trek.
* Please note: Prepaid sim cards do not work in Kashmir.
Don't forget your ID proof in original and 2 photocopies.
The tour package inclusions and exclusions at a glance
What is included in this tour?
Items that are included in the cost of tour price.
Accommodation. (Camping)
Meals while on trek (Veg & Egg) ,Bed tea, Breakfast, Lunch, and dinner.
Trek equipments like Sleeping bag, mattress, tent, kitchen tent, toilet tent
Trekking Permits
First aid medical kits
Qualified & experienced trek Leader, Guide Support staff and Mules
What is not included in this tour?
Items that are not included in the cost of tour price.
Transport from (TRC) Srinagar to Sonamarg and return Naranag to Srinagar.
Mules or porter to carry personal luggage.
Hotel Stay in Srinagar.
Food during the transit.
Insurance.
Anything not specifically mentioned under the head.
Day 1

Arrive at Sonamarg

90 km drive from Shrinagar, approx 3 hours. If booked in advance, GHE can arrange to pick up from TRC at 3 pm.
Campsite is near the Sindh river (Shitkadi Village). Since there are no shops around ensure that you have all that you need already.
Note: Remember to carry your ID proof in original and 2 photocopies as we have to submit them at the army check post.

Day 2

Sonamarg to Nichnai

After breakfast we trek to Nichnai via Shekdur. The trail takes you through meadows, dense forests with Maple, Pine, and Bhoj trees.
After approx half an hour, we get an army check post where we have to submit our ID proofs.
While you are at it, you can enjoy an awesome view of the Sonmarg Valley or the Thajiwas Glacier.
The trek from Shitkadi to Shekdur is going through thick forests of pine trees and will take approx 2 and a half hours.
At Shekdur, you can indulge in instant noodles and an omelet if you wish to.
We follow the Nichnai Stream as we trek from Shekdur to Nichnai. We have lunch at the Nichnai stream, after Shekdur.

Day 3

Nichnai to Vishansar lake

Trek from Nichnai to Nichnai Pass is of approx 1 and a half hours ascent.
At the top of Nichnai Pass you can get B.S.N.L and Airtel network, which is the last point under the mobile coverage area. From Nichnai pass to Vishansar there is a descent.
At Vishansar campsite, lunch will be offered.
We can visit the Vishansar Lake which is just 15 minutes walk from the campsite. The first lake of the trek and one of the most beautiful ones.
Vishansar is visited by hoards of sheep and their shepherds are known for interesting stories.
A campsite is a unique place with open ground and you can play volleyball, cricket, etc. Beware of dogs at the campsite.

Day 4

Acclimatization + Rest Day. (Condition Apply)

You may visit Kishansar lake, which is at approx 1 and a half km from our campsite.
If the weather is not good we will use acclimatization day at Ravishankar or else move towards the next campsite, rest day can be used at the Gangbal campsite.

Day 5

Vishansar lake to Gadsar

We start the trek earlier than usual.
The trail passes from Vishansar to Gadsar, via Gadsar pass the highest point of the trek. From Vishansar, the trail takes a steep ascent till Gadsar Pass.
We can see Kishansar Lake on the way.
From the Gadsar pass till the campsite, we descend gradually. We can spot the Gadsar lake en route.
You might also spot the Glacier of Gadsar Lake.
After the Gadsar lake, we will reach the campsite in 2 hours.
Just a few minutes before our campsite, we will have another army checkpoint and we will have to share our ID proofs with them.
Pack lunch will be provided.

Day 6

Gadsar to Satsar

Mid-July to mid-August, the trail is laden in vibrant flowers.
We need to share our IDs at another army check post en route.
Moving on, we see two small lakes which are often mistaken as Satsar Lakes. We will visit the Satsar twin lakes, in the afternoon, which are approx 1.3 h
Satsar twin lakes are also known as mengen top.
Those twin lakes are between the middle of the mountain.

Day 7

Satsar to Gangabal twin lakes

We walk on rocky paths for approx an hour and ascend till Jazz Pass.
At the pass, you can enjoy views of the 4 lakes, Mt. Harmukh, and its glacier.
From the pass we descend till the Gangbal lake and camp at Nandkol lake.
We visit the Gangbal Lake, which is one of the largest lakes in the trek.
Post dinner, a team of Kashmiri staff will perform their traditional songs and dance.

Day 8

Gangabal to Naranag Drive to Srinagar

The trail is a descent till the last point of the trek – Naranag, so take care of your knees and ankles.
The trail will pass through pine tree forests.
On advance booking, we can arrange transport to Srinagar at a charge.
After the 70 km drive, you will reach Srinagar by 6:30 pm.
Your Stay
Enjoy your amazing stay in the tents and feel the vibes of camping on the heights of J&K . You will be provides all the suitable perks of camping such as three times meals, Trek equipments like Sleeping bag,
mattress, tent, kitchen tent, toilet tent etc.
Note: Carry additional things by yourself like hand sanitizers, wet wipes, tissues, etc.
Yes, life in Kashmir is similar to life in the rest of the states. We trust our on-ground team which has been thoroughly checked through. Since the shops shut down by 9 PM and by 10 PM the streets are quiet. It is better to avoid going late outside, while in the city.
Kashmir Great Lakes trek climbs to 13,800 feet covering a total of 74.4 km in six days and we rate it as a moderate-difficult with steep climbs in between.