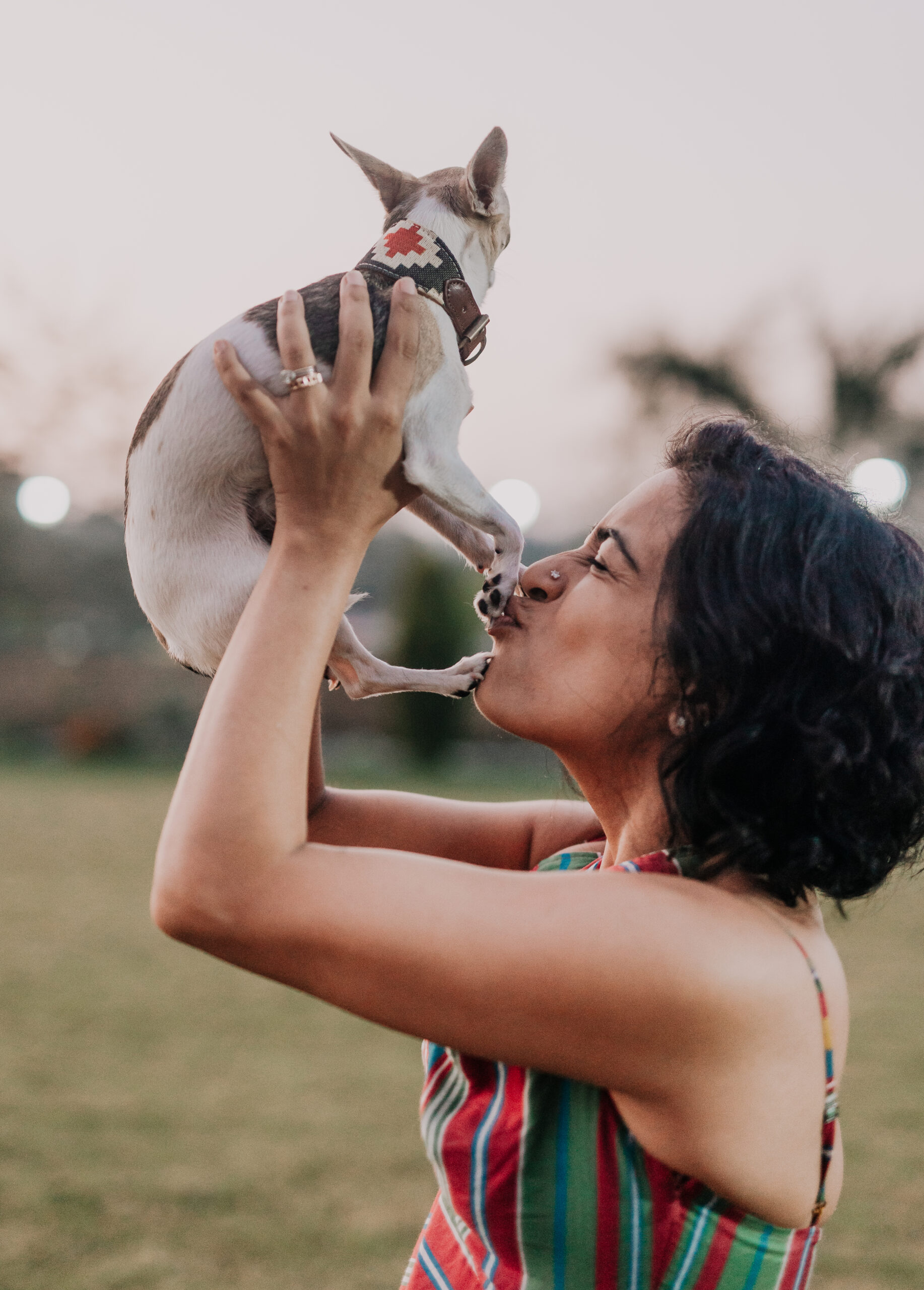 Woof and Wellness Retreat
from
Embrace the bond between humans and their pets in Dehradun. Explore the world with your furry companions at this first-of-its kind experience that combines wellness, mental detox, and the joy of sharing every moment with your four-legged friends.
Vacation Style

Holiday Type

Eco Resort, Wellness, Yoga

Activity Level

Challenging
All about the Woof and Wellness Retreat.
Organised at The Kaaya Living, Dehradun
This retreat is designed for pet owners and pet lovers who deeply value the presence of their beloved pets in their lives and wish to explore the world with them, despite the societal norms and rules that often hinder such experiences. It's for those who see no distinction between humans and their furry companions.
Hosting a pet-friendly wellness retreat blends Arunima's two passions – creating a space where you can practice yoga and mental detox while enjoying the company of your four-legged friends. Arunima conceived this concept out of frustration when she encountered difficulties taking her pet along everywhere she wanted to go. Her vision is to build a community of like-minded individuals who come together to support each other in traveling with their pets, all while embarking on a journey of self-healing, as our pets play a significant role in our well-being.
We aim to open the doors of Kaaya Living Mud House for you over two unforgettable days, where you can move, relax, savor delicious meals, and relish every moment amidst nature, with your pet by your side.
Shally shares a profound passion for travel and is dedicated to organizing and managing these beautiful retreats. She believes in the transformative power of traveling with pets and the connections it can forge.
The tour package inclusions and exclusions at a glance
What is included in this tour?
Items that are included in the cost of tour price.
All Meals and Snacks during the stay for you and your pet

One room with your pet for 2 nights

All activities as per the itinerary – 

2 Pottery Sessions, hike, potrait and gifts

Facilitator Fee

Joy, smiles, Self discovery and a bag full of memories
What is not included in this tour?
Items that are not included in the cost of tour price.
Reiki Session

Airfare/Train or Bus Fare

GST 

Anything not mentioned in the inclusions
Day 1, 2nd December

Reach Kaaya Living, Dehradun

10:00 AM: Arrive at our picturesque retreat – Kaaya Living Mud Houses, nestled in the heart of nature, and let the relaxation begin as you feel the soothing embrace of our tranquil surroundings.
11:00 AM – 12:30 PM: Immerse yourself in a meaningful journey discussion led by our experienced facilitator, followed by a calming unwinding meditation that sets the tone for your retreat.
1:00 PM – 1:30 PM: Treat your beloved pets to a delectable lunch thoughtfully prepared with their well-being in mind.
1:30 PM – 2:30 PM: Savor a delicious lunch designed to please the palates of our "hoomans."
2:30 PM – 3:00 PM: Capture timeless moments during our portrait session, creating lasting memories with your furry companions.
3:00 PM – 4:30 PM: Enjoy well-deserved rest and personal time, allowing you to unwind and connect with your inner self.
4:30 PM – 5:00 PM: Indulge in a delightful HI-Tea, while your pets savor their afternoon snacks.
5:00 PM – 6:00 PM: Embark on a leisurely walk through our serene surroundings, creating beautiful memories with your pets.
6:30 PM – 7:30 PM: Experience the soothing energy of Reiki, a holistic practice that promotes well-being, for both humans and pets. Alternatively, opt for another heartwarming portrait session with your furry companions.
7:30 PM – 8:30 PM: Delight in a sumptuous dinner, carefully curated to satisfy your taste buds and nourish your body.
8:30 PM – 9:30 PM: Gather around the enchanting bonfire, accompanied by soul-stirring music, creating an atmosphere of camaraderie and relaxation.
10:00 PM: Lights out, ensuring a peaceful night's sleep in our cozy accommodations.

Day 2, 3rd December

Cuddle with your pets

6:00 AM: Wake up to the gentle sounds of nature, embracing the serenity of our retreat.
6:30 AM – 7:30 AM: Begin your day with a refreshing walk with your beloved pets, forging a deeper connection with the natural world.
7:45 AM – 9:00 AM: Immerse yourself in a morning of rejuvenation with Yoga and Pranayama, promoting physical and mental well-being.
9:00 AM – 10:00 AM: Share a wholesome breakfast with your cherished pets, strengthening the bond that defines your unique companionship.
10:00 AM – 11:00 AM: Embrace personal time for relaxation or connect with your pets on a deeper level, nourishing your spirits.
11:00 AM – 12:00 PM: Experience the profound relaxation of Yog Nidra, a practice that restores and rejuvenates the mind and body.
12:00 PM – 1:30 PM: Engage in a portrait session with your pets, cherishing the moments you share. For those seeking artistic expression, pottery is also available, allowing you to create tangible memories.
1:30 PM – 2:30 PM: Relish a delectable lunch, carefully crafted to satisfy your culinary desires and cater to your pets' nutritional needs.
2:30 PM – 4:00 PM: Recharge during your personal relaxation time, immersing yourself in the serenity of our retreat.
4:00 PM – 4:30 PM: Enjoy a delightful Hi-Tea, marking a delightful pause in your day.
4:30 PM – 5:30 PM: Choose between an engaging pottery session or another tranquil walk with your furry companions, creating cherished memories.
4:30 PM – 7:15 PM: Experience the balancing energies of Reiki, tailored for both humans and pets, ensuring holistic well-being.
7:30 PM – 8:30 PM: Savor a sumptuous dinner, thoughtfully prepared to tantalize your senses and nourish your body.
8:30 PM onwards: Gather for a cozy movie night by the bonfire, allowing relaxation and camaraderie to envelop you. Lights out when the movie ends, ensuring a restful night's sleep.

Day 3, 4th December

Departure

7:00 AM: Wake up to the enchanting sounds of nature, bidding farewell to our retreat's serene embrace.
7:30 AM: Embark on a final morning walk with your cherished pets, soaking in the last moments of natural beauty.
8:00 AM onwards: Savor a leisurely breakfast and prepare for your departure at your convenience. As you bid us farewell, we hope you take with you cherished memories and a renewed sense of well-being for both you and your beloved pets.
Accomodation & Stay Details
Kaaya Living, Dehradun
Kaaya is a self-sustained campus for rural eco-tourism, experiential learning, and community building nestled in the Himalayan Foothills on the outskirts of Dehradun. You will stay in mud houses with attached washrooms and an ample space to take your pets around and spend time with them.
The idea is to provide a natural facility for human to human engagement with nature, people and community; create engagement towards restoring ecological health, and allow space to practice sustainable living.
Package

Confirmed Dates

Trip Status

Trip Status

Price (PP)

Excluding Flights

Price (PP)

Including Flights

December 2, 2023 - December 4, 2023