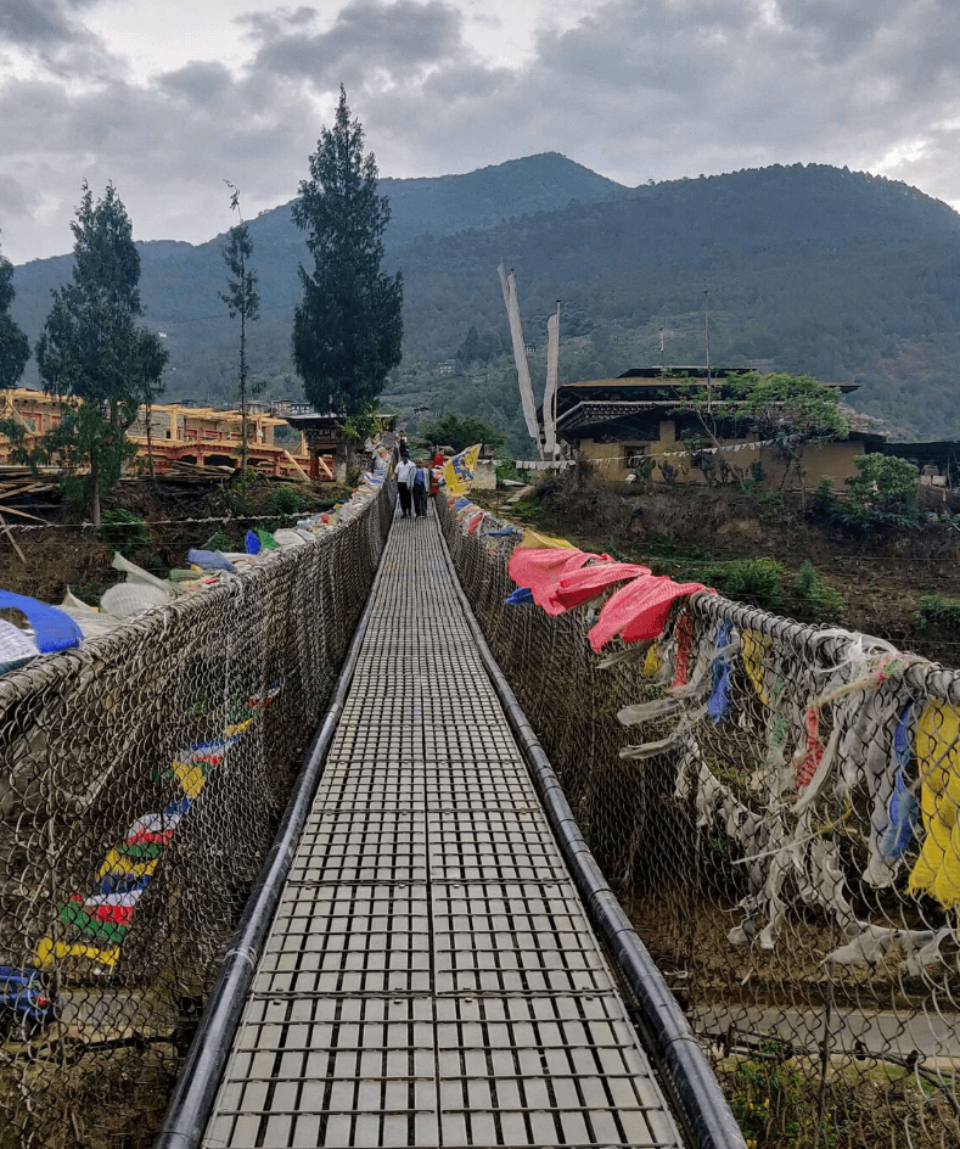 Bhutan Road Expedition
from
Bhutan is no ordinary destination. It is the perfect mix of  art, mountains and culture. Road Expeditions to Bhutan with us includes a unique style of vacation, which focuses on rejuvenation and minimalistic lifestyle.
Vacation Style

Holiday Type

Culture, Discovery, Hiking, History, Trekking, Wildlife
All about the Bhutan Road Expedition.
EXPLORING  ASIA'S HIDDEN GEMS
The Kingdom of Bhutan, a small, landlocked country of only about 750,000 inhabitants, is often called the happiest country in the world. The country ' s values provide for a unique intersection of tradition, spirituality, and development, making it like no other place in the world to experience. We welcome you to their Himalayan home.
Call our bhutan specialist  @ +919999143088
The tour package inclusions and exclusions at a glance
What is included in this tour?
Items that are included in the cost of tour price.
To and fro Travel from Bagdogra to Phuentsholing

Stay as per Package 3 Star Hotels

All stays on double sharing basis

Travel through out the trip by a Hiace Bus/SUV

All Breakfast and dinner

Guide included

Permits
What is not included in this tour?
Items that are not included in the cost of tour price.
Flight tickets, Any Kind of Personal Expenses or Optional Tours / Extra Meals Ordered.

Any expenses caused by reasons beyond our control such as rescheduling or cancellations, any accidents, weather conditions, medical evacuations, riots, strikes etc.

All entrance fees

Extra Tourist taxes applicable from July 2020
Day 1

Bagdogra To Phuentsholing

Reach Bagdogra Airport by 12 noon. You will be picked up by the team from the airport to reach Phuentsholing by 7 pm.

Phuentsholing has always been a dream vacation spot for the Bhutanese from the north, seeking warmth during the winters or simply for shopping for Indian sourced groceries, construction materials or clothes. It is a magical town bustling with activity and filled with a large mix of people from different cultural backgrounds

Day 2

Phuentsholing To Thimpu

Leave Phuentsholing for Thimpu after Breakfast at 8 am.

Thimphu dzongkhag is the thriving political and economic heart of Bhutan. It contains the capital city of the same name, and comprises eight gewogs, or groupings of villages. Approximately half of the district, the northern part, lies within the environmentally protected boundaries of Jigme Dorji National Park.

Visit the Simply Bhutan Museum or folk Heritage Museum
Visit the Changangkha Lhakhang and capture one of the most beautiful sunset.
Changlimithang Archery and stadium
Learn about Bhutanese astrology at the Pangrizampa Monastery
Discover fine fabrics at the Royal Textile Academy

Day 3

Explore Thimpu

Continue exploring  Thimpu…

Visit the golden Buddha Dordenma statue, one of the world' s largest.
Get close to Bhutan ' s national animal, the gentle takin.
Visit the Institute for traditional arts and watch the students fine-tune their crafts. You can purchase crafts too.
Do some people watching at the monumental Memorial Chorten.

Day 4

Thimphu To Punakha

After Breakfast, leave for Punakha around 8 am.

The beautiful and fertile Punakha Valley follows the course of the Punak Tsang Chhu south from its source at the confluence of the Mo Chhu and Pho Chhu – the famed "Mother " and "Father " rivers – to the modern settlement of Wangdue Phodrang and beyond. At just 1250 meters (4,100ft) elevation, the climate of the lush Punakha Valley often feels hot and sultry in comparison to that of Thimphu, which sits at almost twice the altitude

Meet locals in the heart of Punakha town.
Enjoy the architectural splendors of the Punakha Dzong.
Cross Bhutan ' s longest suspension bridge & visit is nearby villages.
Hike to Khamsum Yuelley Lhakhang

Day 5

Punakha To Gangtey

After Breakfast, leave for Gangtey around 8 am. Visit Dochula Pass on the way. Hundreds of prayer flags flap in the wind at Dochula, sending out merit to all sentient beings. On a clear day the views are astonishing. Visible are many snow covered 7.000-metre summits including Gangkhar Phuensum, the world's highest unclimbed mountain.

Experience modern history at the Druk Wangyal Lhakhang.

Honor the fallen warriors at the Dochula Chortens

See the many blooms at Lamperi Park

Situated on the west flank of the Black Mountains that separate it from central Bhutan's Trongsa district, Phobjikha Valley is a wide, flat glacial carving of such extraordinary beauty that for some Bhutanese, it is their favorite valley of all. Phobjikha is known for its habitat for endangered birds, especially the Black Neck Crane.

1.Learn about endangered cranes at the Black Neck Crane Center

Take a beautiful walk through Phobjikha valley

Visit small, local monasteries

Have tea and learn farming practices of locals

Stay Overnight in Gangtey.

Day 6

Arrive Paro and explore

After Breakfast, leave for Paro around 8 am. Paro district is a microcosm of Bhutan. In its 1287 square kilometers (497 square miles) are contained some of Bhutan's oldest fortresses, the precious artifacts of the National Museum, and cliff clinging religious centers that many foreigners are iconic of Bhutan.
Stay overnight in Paro

Day 7

Paro (Hike Tiger's Nest)

From a distance, Bhutan's most iconic building seems to float, weightless, halfway up a sheer cliff-face, 900 meters (3,000 feet) above the floor of the Paro Valley. As you wind your way breathlessly up the long, steep path towards Taktsang Lhakhang, the monastery periodically reveals itself, rising out of the forest, closer and more solid with each reappearance. It is believed that the first person to recognize the holiness of this inaccessible spot, Guru Rinpoche, arrived here with considerably greater ease — on the back of a flying tigress. After defeating a troublesome local demon in the eighth century, Guru Rinpoche, who is also known as Padmasambhava, spent months here in meditation. The lhakhang — its name meaning "Tiger's Nest" — has been a place of pilgrimage ever since.

Day 8

Paro-Phuentsholing

After Breakfast, leave for Phuentsholing around 8 am. Reach by 7 pm. Stay overnight.

Day 9

Depart via Bagdogra

Day 9 Phuentsholing to Bagdogra airport
After Breakfast, leave for Bagdogra airport around 8 am. Take a flight after 2 pm to reach Delhi by the evening.