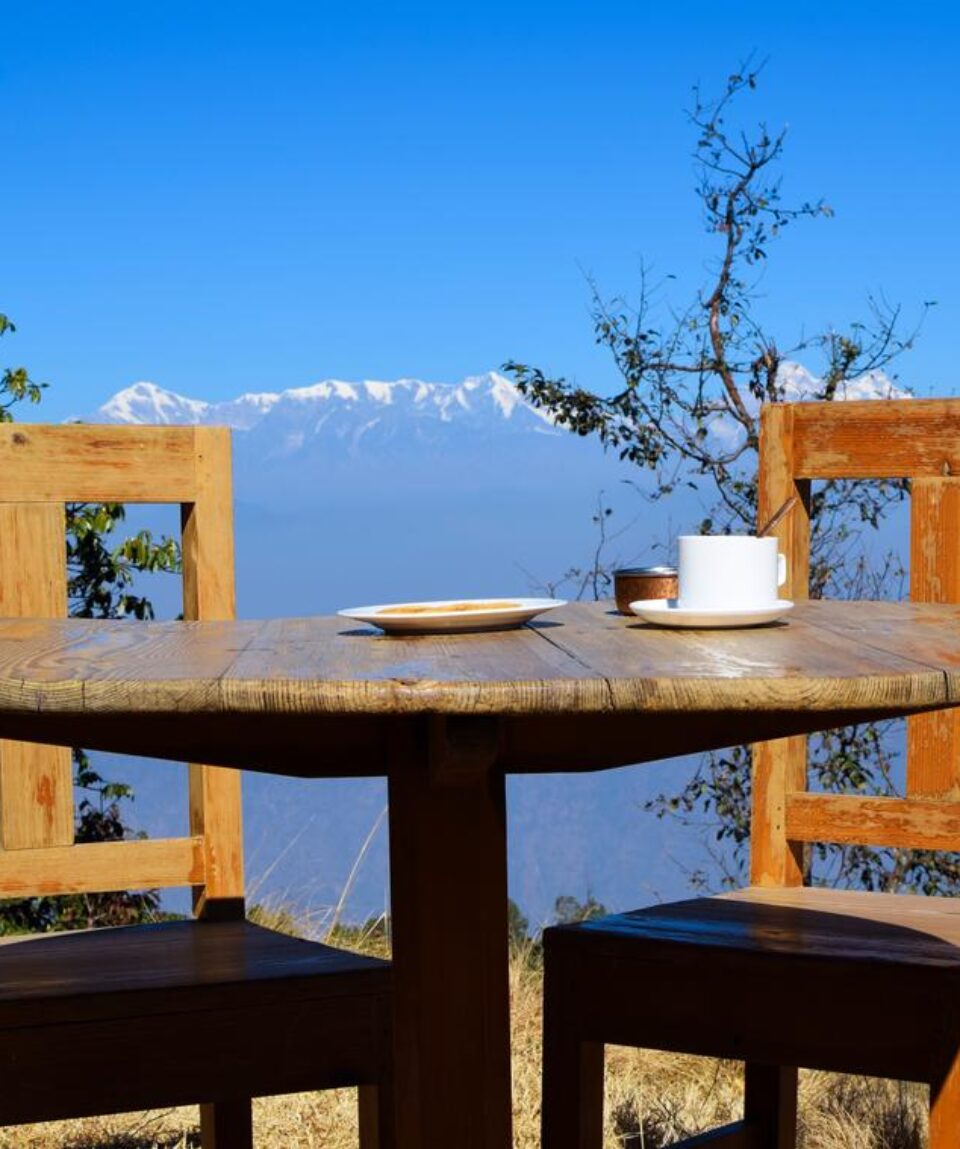 Rhythm of Calmness – Uttarakhand
from
Experience this peaceful retreat in perfect mountain solitude, miles away from civilization in a village setting. Enjoy your presence, deep in the oak with the mesmerizing views of snow clad Himalayas and splendid valley.
Vacation Style

Holiday Type

Activity Level

Challenging
All about the Rhythm of Calmness – Uttarakhand.
If you have dreamt of staying a few days in perfect mountain solitude, miles away from civilization in a village setting, then this house is just for you. Property lies in Thikalna Village, district Almora, Uttarakhand. Enjoy your presence, deep in the oak. Rhododendron and pine forests with uninterrupted awe – inspiring 180 degree views of snow clad Himalayas and splendid valley.
Children under age 12 are not allowed.
FOOD
The local cuisine in this region is the distinct Kumaoni food which is mildly spiced, highly nutritious and very appealing to the palate. At, property you will sample some popular mouth-watering recipes of this cuisine, prepared using fresh ingredients. Besides Kumaoni food, a wide selection of regular North Indian dishes is served. A non-vegetarian dish is served during the dinner on request.
ACTIVITIES
Walk to Jageshwar temple – Jageshwar Temples, also referred to as Jageshwar valley temples, are a group of over 100 Hindu temples dated between 7th and 12th century near Almora, in the Himalayan Indian state of Uttarakhand.

Walk to Barechina Village – This is a beautiful downhill walk through a small trail full of Rhododendron trees on the path to Dhaulchina Village. From Dhaulchina the walk leads downhill through pine forest to 'Kachula' and then continues on the trail to the small village town of 'Barechina'.

Visit to Chitai Temple – This temple is dedicated to Golu Devta, who is considered to be the God of Justice. As one approaches the temple, the first thing that strikes you is hundreds of bells hanging at the entrance. People come to the temple to make a wish to Golu Devta.

Visit Almora village – This centuries old town is one of the original Indian hill stations. It was set up by local Chand rulers many centuries ago. The town showcases an interesting combination of Kumaoni and Bristish architecture in its government buildings. The market is famous for its brass wares. The town has an 800 year old Nanda Devi temple. The local zoo is a must visit due to its collection of man eating leopards.  
This place offers a stay in a traditional house. For more details click the next tab.
Accommodation & Stay Details
Property restored traditional village house which is stunningly located and has been touched up and converted into a cozy retreat without compromising on the authenticity. The house has 2 tastefully furnished bedrooms with excellent quality linen and mattresses, attached bathrooms, a small sitting-dining area and a fully equipped traditional kitchen. This house at an altitude of 2250 mts is located at the edge of a cliff and gives one a sense of being cut off from the outside world. Spend your days reading a book, walking through and of course, eat great food prepared in local style.
Stay inclusions